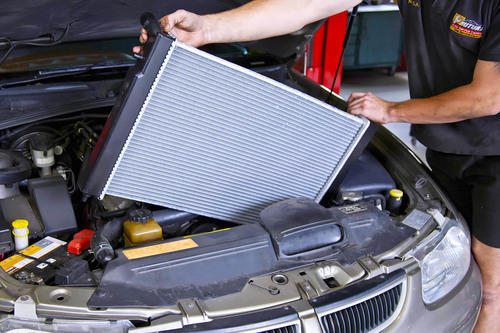 Auto, Car, and Truck Cooling Systems and Radiator Diagnosis and Repairs.
Hi, I'm Shawn Berger and welcome to our Blog about your Cars Radiator, Water Pump, Thermostat, and Cooling Fan System Operation, Diagnosis, and Repairs.
Your cars cooling system, in my experience is one of the most tricky systems to be diagnosed. I have seen auto mechanics without proper experience or knowledge cost a customer money by parts changing without proper diagnostic work being performed. With that being said, make sure that you have an experienced Auto Engine Repair Specialist like the ones we employ here diagnose the problem accurately BEFORE just changing parts.
A good cooling system diagnostic can tell you what is wrong, how long it will take to fix, and it will allow the Mechanic Shop or Service Center to tell you exactly what needs replacement and how much it will cost for the repairs.
In some cases, if the cooling system is leaking the mechanic shop will have to repair the leak first to be able to move forward towards a Cooling System or Radiator Diagnosis and Repair. After the Cooling System is sealed and not leaking our Auto Repair Center here in Slidell can determine if a part such as the engines water pump, thermostat, or radiator has failed. Our Repair Shop can also perform a block test to be sure that there are NO Hydrocarbons in the Anti-Freeze inside the Radiator. If the chemical test we perform here at our shop detects these hydrocarbons then there is a more serious issue with the engine called a Blown Head Gasket, Cracked Head, or worst case scenario Cracked Car or Truck Engine Block.
So be sure to seek out a qualified, trained, and local auto repair shop and mechanic so your cars cooling system or radiator troubles can be accurately diagnosed and repair the first time and without a bunch of unnecessary expense possibly.
Please do remember, have your Radiator Flushed and have New Engine Coolant (Anti-Freeze) put in you cars cooling system every 12-24 months. This will prevent the freezing of your cooling system that could lead to serious damage. The coolant also prevents rust and corrosion of the internal cooling system, Radiator and Engine.
Thanks for Reading, Shawn Berger Pro-Auto Car Repair, Engine and Transmission Repair Slidell, La. 70458