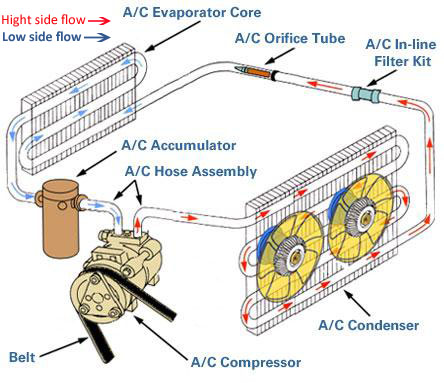 Local Auto Air Condition, A/C Repair and Services
Searching auto repair near me? Local air conditioning repairs and services? Well, look no more, you found the right mechanic shop here in Slidell, La. Pro Auto Car Repair, Engine Repair and Transmission Shop is your auto air conditioning repair experts as well.
What we do when your a/c is not blowing cold is we perform an air conditioning Freon level test to see if there is Freon gas in the system and if it needs a refill. If it needs a refill then it most probably has a leak in the system. So then we perform an ultra violet Freon gas leak detection process to pinpoint the source of your a/c systems leak.
After all testing is done to the system we can put together a detailed estimate on exactly whats wrong, how much it will cost to fix, and how long it will take. We generally can get most a/c recharges done pretty quick and most minor leaks fixed and have you blowing ice cold air conditioning all in the same day.
Now, if we determine the a/c compressor is at fault and internally failed then the only correct way to fix that type of failure is to do the following: 1. Replace the Air conditioning compressor 2. Replace the expansion valve / orifice tube 3. Replace the receiver dryer / accumulator 3. Flush the system of contamination very good. That is the way it should be done along with changing all of the system o-rings and service port valve.
To refill the a/c system we vacuum it down to remove all of the moisture and air from the system. Then we make sure it holds a vacuum for at least 30 minutes to ensure no leaks. After that we then recharge the air conditioning system with Freon, Oil, and we add Dye to the system for future leak detection convenience.
So, I have just shared with you a little bit of how true auto air condition repair specialists do it, the right way, the first time. Thank you for reading and come check us our here at your Local Auto A/C Repair Shop, Pro-Auto Car Repair Slidell, La. Shawn Berger www.professionalautoengines.com