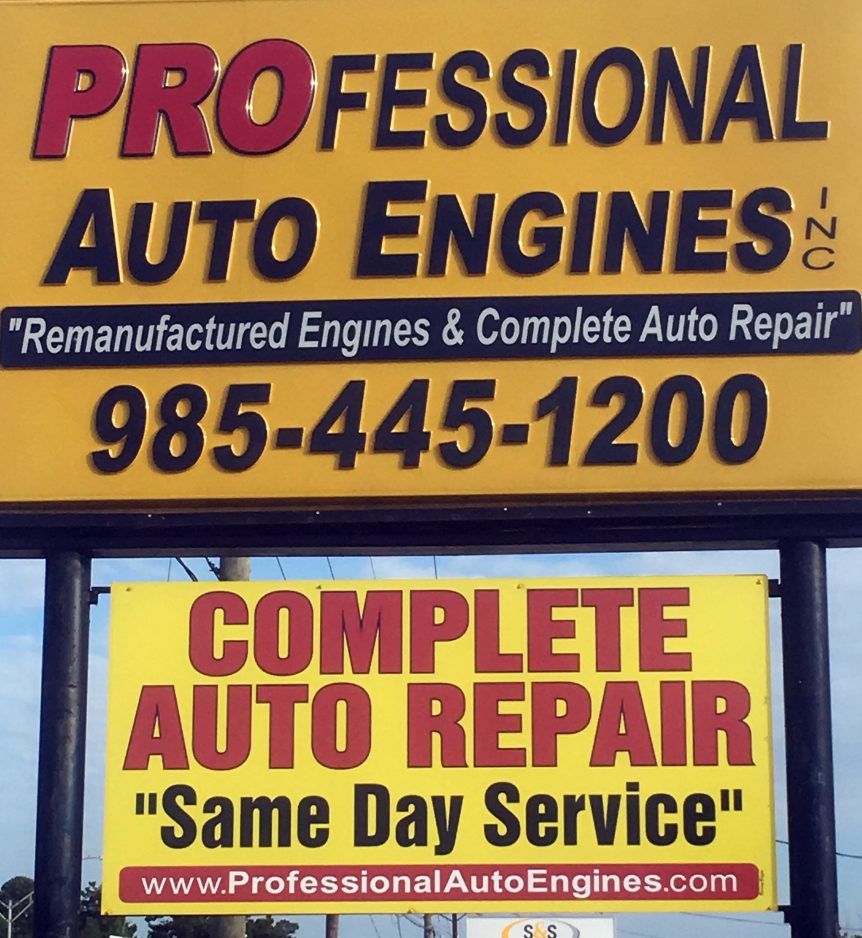 Our New or Used Engine Repair and Transmission Repair / Replacement Shop in Slidell, La.
Hello and welcome to the Pro-Auto Car Repair, Engine and Transmission Shop Blog. My name is Shawn Berger and I am the guy that will be guiding you through your Auto, Car, or Truck Service or Repair Work here at our Certified Mechanic Shop in Slidell, La. 70458.
Before we condemn and Engine or Transmission for Replacement we always perform a thorough diagnostic to be 100% sure that replacement is the best repair for your car or truck.
So, let's start with Used Engines. There seems to be an automatic negative opinion from some on the word USED ENGINES, let me explain, there are "junk yard" engines where the engines have been exposed to the weather and maybe removed from the old vehicle improperly or in a lot of cases you don't know if they even work or the true mileage on the Cars Motor. This is not the type of Car or Truck Used Motors / Engines we use at all.
At Pro-Auto Car Repair, Engine and Transmission we quote, Replace, and Install only Quality Used or Recycled Engines and Transmissions. We deal with a very reputable Nationwide Company that offer a Nationwide Warranty on all of their Engines and Transmissions. We have a very high success rate with the Installation of These Used Engines and Transmissions, Our customers love us for offering this option than in most cases can save you some money.
Our Certified Auto Mechanic Shop here in Slidell installs these Quality Used Motors/Engines in 2-3 Days or Less and Quality Used Transmissions in 2 Days or Less with Perfection! We also give you a 6 Month Nationwide Warranty on these Engine and Transmission Assemblies. We know the mileage of the engine we are quoting, we know these Used Engines are Mechanically Tested and are packaged very nice before we get them.
Case in point, We have been very successful in offering our customers a more affordable option for Auto, Car, and Truck Engine and Transmission Replacement. We do about 100 of the Used Engine and Transmission Replacements a year and have done them with a satisfied customer at the end of the day.
So, if the Cost of Engine or Transmission Replacement is an issue and a New Engine or Transmission is not in your budget there is nothing wrong with the Used Engine or Transmission Replacement Option. Of course the New Engine and Transmission Replacement Option is the best option if it fits your budget because New Auto, Car, and Truck Jasper Engines come with a 3 Year 100,000 Mile Nationwide Parts and Labor Warranty! But Again, we have had very good success with our Quality Used, Pre-Owned, or Recycled Engines and Transmissions.
Okay, with all that being said, I hope that I was able to make you feel better if the Used Car Motor or Transmission option fits your budget. Give me a call at 985-445-1200 I would be Glad to quote both New and Used Engine or Transmission Replacement on your Vehicle, it takes about 10 minutes.
Please don't forget, Pro-Auto Car Repair, Engines and Transmissions is located at 1684 Old Spanish Trail Slidell, La. 70458. We are your One Stop Auto Mechanic Shop and Car-Truck Service Center in Slidell. I look forward to helping you.