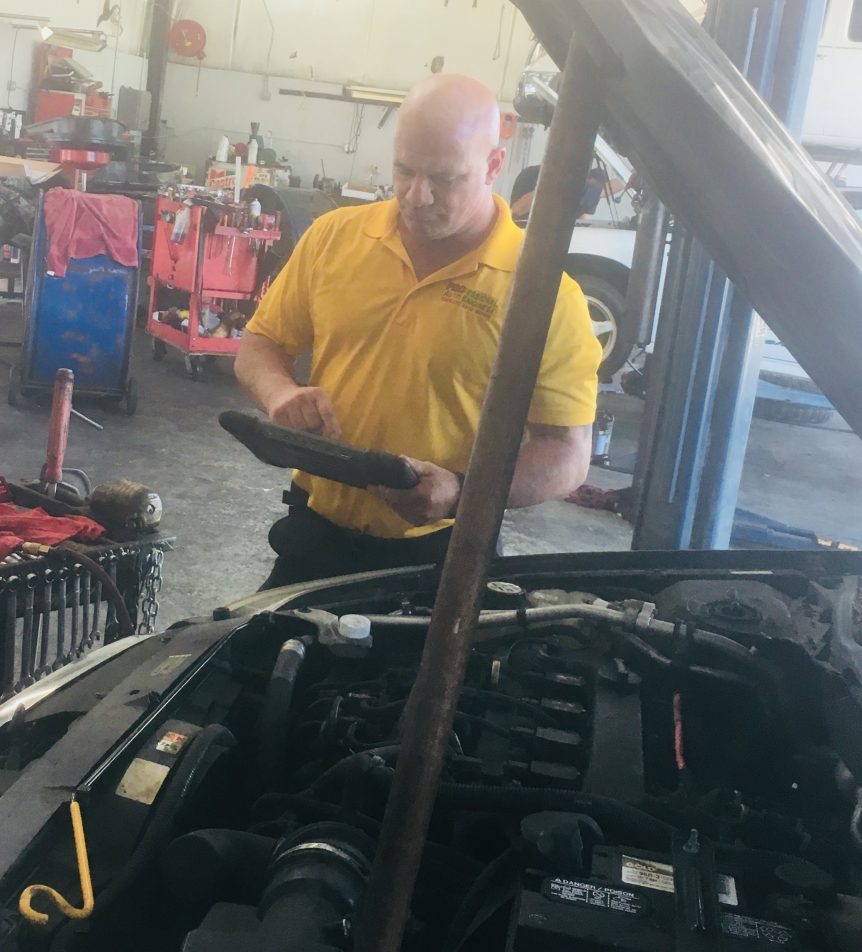 Searching for a mechanic shop near you? Well check us out, Hi my name is Shawn Berger with Pro-Auto Car Repair, Engine Repair and Transmission Shop in Slidell, La.
We are your one stop local mechanic shop offering Engine and Transmission repair, sales, installation, and service. We also do full service mechanical repairs such as brakes jobs, shock and strut replacements, steering and suspension repairs, tune-ups, electrical and computer repairs, ABS, traction control and check engine lights, radiators and cooling system repairs too.
We are a fully Certified and AAA Approved Mechanic Shop. Pro-Auto Repair offers towing from anywhere to our auto repair center and local shuttle rides to work, home, or school for our customers. We have a 3 Year 36,000 Mile Parts and Labor Nationwide Warranty on most auto repair work. Our Engines and Transmissions also come with a Nationwide Parts and Labor Warranty.
We perform a complete diagnostic of whatever system on your car is having problems.
For engine overheating , radiator, water pump or coolant leak type problems we will first pressure test the system and find the source of the leak. From there we will repair the leak and once the system is sealed we will do a block test. A engine block test tests for exhaust gases in the radiator. If these exhaust gases are in the radiator then we can conclude there has been substantial damage to the head gasket, engine block or cylinder head.
If there are no exhaust gasses in the coolant then we will move forward to determine if there was a primary cause of the coolant leak. Sometimes a thermostat or bad water pump will cause overheating and due to the extreme heat the weakest link in the cars cooling system will bust or fail. So, that is why it is very important to let a certified mechanic shop to this kind of work. We know to look for and how to detect the underlying causes of cooling system and engine overheating problems.
For an engine miss fire our mechanic shop and certified car repair technicians are the best in the business. We have state of the art computer diagnostic equipment to determine the cylinder miss firing. Then we will go into further diagnostics to see if the injector is pulsing in the bad cylinder. If there is fuel then we will check for fire. Is the ignition coil firing when it is supposed too? If there is no fire then we will go down the diagnostic tree for no ignition fire to the spark plug.
If there is ignition fire then the last test would be a manual compression test. This is a test where the spark plug is removed from the engine and a compression gauge is installed, then we spin the motor over about three revolutions and read the amount of compression on the gauge. We would compare adjacent engine block cylinders and to the reference manual specifications. If there is a low reading in a cylinder then you have a burned cylinder head valve or bad compression rings in most cases. A rebuilt engine, or major engine repair is necessary.
That's just a little bit of our processes to diagnose certain problems. I hope you learned a little something and look for the next post.
Thank you for reading, Shawn Berger 985-445-1200
Pro-Auto Car Repair, Engine Repair and Transmission Shop
1684 Old Spanish Trail Slidell, La. 70458
www.professionalautoengines.com